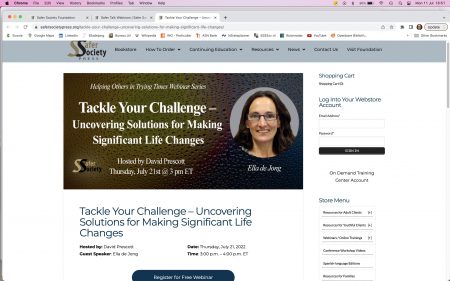 When it's possible for 142 attendees to experience 'Tackle Your Challenge!' live, all at the same time. Then it will also be possible voor 1142 people!
"This was fantastic! Thank you so much for doing this."
I've been invited by David Prescott to demonstrate my self-coaching, activating session. I'm honoured to have hosted one of the free online webinars in the 'Helping others in trying times webinar series' provided by Safer Society Foundation.


Feedback by Ayse Adil - Team Training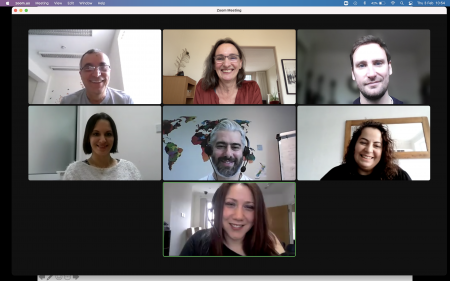 Ayse Adil, one of the co-founders of Family Based Solutions* wrote during the training on Fb: 'Team Training by Ella de Jong, LOVING it!'
As feedback, Ayse wrote on LinkedIn : "Thank you for be you Ella de Jong. Not only did you give us the space to self reflect but you also supported us in exploring our strengths in the most respectful way. Until next time... "
*FBS is a charity in Enfield, UK : Family Based Solutions works with the whole family to end the cycle of abuse and repair family relationships.
Feedback by Giuliana - Tackle Your Challenge
Google reviews
I read with interest Ella's book "Solution Focused Mentoring: 5 Steps to bring out the best in your Mentee and yourself" and what I liked most about it is that it is full of good questions that help both mentor and mentee to grow their best, individually, and collectively. The book has a clear and logical structure and can serve an excellent guide you can take with you to a mentoring journey. As a person who also likes to smile😊 I very much appreciate Ella's intention to bring in a smiley experience to our daily life.
Victoria Spashchenko, author of the practical guide "How to Solve Problems without Discussing them. Solution-Focused Approach for Managers, and for others, too"
++++++++++++++
I am a therapist, supporting both typical adults and youth, as well as those labelled with developmental and other disabilities. I found you integration of visual and kinesthetic aspects with a solution-focused approach both intriguing and inspiring.
++++++++++++++++++++++
A wonderful, caring heart combined with the knowledge to tackle the challenges that life offers. That is Ella. Thank you so much for your being you and being there for so many! And in such helpful ways!
+++++++++++++++++
The time spend with Ella was very useful as I was really able to reflect on what has brought me to this point in life. It encouraged me to realise that I was capable of dealing with the challenges I am currently facing. Thank you Ella!
++++++++++++++++++
Change coaching (online and offline)
It is the human connection and the wisdom that helped more than anything.
Ella is simply there with you with all her being and she stands beside you with a mind that is alive and curious.
I could talk about issues that I thought no one could handle or understand without laborious explanation. After each session I naturally knew what needs to be done and I did it.
I think that the support Ella offers is profound and helps us gets back to what we all seek in various ways and forms -unconditional regard and love.
+++++++++++++++++++++++++++++++
..and then you are persistent and keep on labelling positively, that's very nice!
You keep on asking and when it doesn't work with a question, you just change it a little bit and asks again. Good! That's stimulating!
+++++++++++++++++++++++++++++++... you 'gave me back my words' a lot, you made me think about it all by myself. "What do you want to achieve?" instead of suggesting all kind of solutions.
So now I don't have fixed solutions but my brains are working, working ...
+++++++++++++++++++++++++++++++
... you answered so quickly and in such a positive way. In our meeting I liked your enthusiasm and interest in my process.
===============================
Feedback regarding live workshops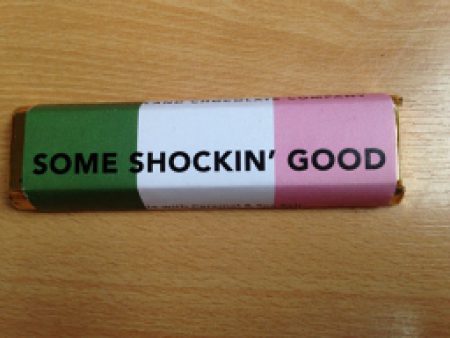 The Canadian chocolate bar 'some shockin' good' was given to me by my highly valued colleague and friend Heather Fiske after she had attended my workshop in Florence, Italy at the EBTA conference. Very, very much appreciated!

Feedback:
.... I'm leaving with a strong smile and will use what I learned in your workshop, in my communication with my clients and .. actually with everyone!"

+++++++++++++++++++++++++++
I was lucky to attend the 'Energizing Communication with Troubled Youth' workshop with Ella de Jong at the Halifax Conference of SFBTA in November 2016.
Accustomed in my everyday practice to primarily verbal conversations with clients, it made a real difference and impact on me to experience the non-verbal, inspiring and creative indeed, input that we all, participants in the event, were able to make. Even today, almost half a year later, I have very vivid memories of the training tasks Ella proposed us to do, and of my own and the other attendees' actions and reactions.
The association with the Beatles' song HELP! is simply inevitable when you study her way of energising therapists and clients! We did different things, coming to realise how many more ways of expressing ourselves and exchanging with clients there are than words alone.
What immediately came to my mind then was Ben Furman's idea to do a totally verbally-free event with Chinese children. Maybe in some cases and situations we can go without words altogether?! This looks obvious when you take part in Ella's highly interactive workshop. It was also really such fun and joy for us all! I work rarely with children and teenagers, but now I feel much more comfortable when they attend sessions, knowing how many and diverse ways there are to inspire their hope and to engage their energy in the process of solutions-building.
Thank you, Ella, for the wonderful experience, and I do hope that we meet somewhere again!
Plamen Panayotov, Bulgaria
+++++++++++++++++++++++++++
... enthusiastic, well prepared, open, cheerful, inspired trainer
... I am able to connect much better now with youth. Out of the box thinking and actually doing made me happy!
... I loved the fact that we had a lot of different assignments so we could practice a lot. The atmosphere in the group was very nice. I am able to communicate better now with my clients.
... I feel more secure now
... I don't think it's ME who has to provide all the answers, anymore! It was very good to experience the creative assignments. You really FEEL how it works
+++++++++++++++++++++++++++

.... "Connecting communication really works. Elle de Jong is a fine, warm professional woman who teaches you through various assignments how you can connect, really connect. Thank you for this!"
++++++++++++++++++++++++
... "motivating, energetic, very nice and meaningful"

Feedback conversation with Centro Latino
... It really shows that she is living the practice focused on solutions at all times.
... That you share your ideas and your exercises has been very generous.
... We really liked Ella's posture.
... Very attentive to sharing, close, warm and above all human, important qualities in SF work.

Feedback online 'Tackle Your Challenge!'