Online conversations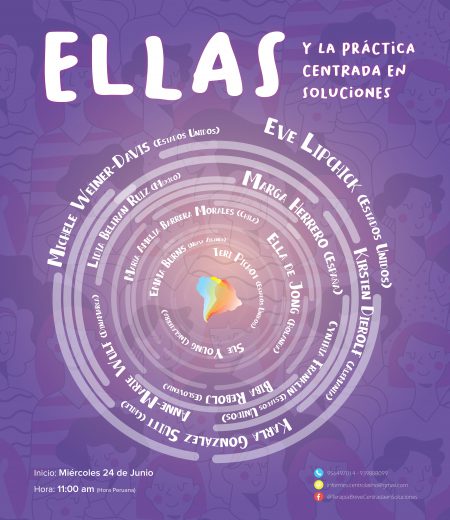 Happy to invite you October, 5th
How to enlarge SUSTAINABILITY
using 'Tackle Your Challenge!'
Event by Dr. Sabrina Schmitz
========================
I was invited to have a chat with Ayse Adil & Joe from 'Family Based Solutions' with co-hosts Jenny Clark and Raya Guhl on February 4th 2021
YouTube: FBS chat with Ella
++++++++++++++++++++++++++++++
September 2020
I was invited by Hans Pier Jara Iglesias for an online conversation on September 16th 2020 at 09:00 am (CET) uur with Centro Latino, Peru. Very honoured!
SF24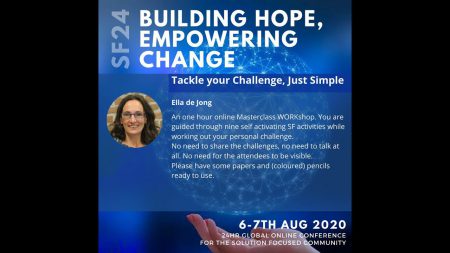 A wonderful experience: being part of the SF24 Conference Building Hope, empowering change. I was scheduled at the 'Asia sessions' on August 7th 2020. You'll find the recording of 'Tackle your Challenge, Just Simple! on Youtube.
EBTA Conference
I've answered some nice questions asked by Marco Matera in Florence at the EBTA conference in 2019. In May 2020 I've posted it on Facebook (the specific Solution Focused question Marco asked). The whole interview about the beautiful venue in Florence and the EBTA meetings, you can find here.
Past and future
Years ago (in a stressful time for me) I've started putting 'Smile Strength minutes' on display on a YouTube channel. I haven't finished it yet ... (It's about time to mention all the five senses, o, dear!!) I"m planning to fill it with other valuable stuff, o, dear ... when but when!
Future plans: putting my masterclass on an online training platform so more people are able to learn how to help others and themselves by using simple and wise communication.